The 'Getting to Know You and Nature' creative walks were the first outdoor face-to-face project during lockdown. These walks were crucial to help residents of the new build 'Foundry Wharf' to meet their neighbours and explore their new area in confidence. This group, known as the Happy Wanderers, is predominantly focused on bringing people together and being creative within nature through photography, poetry, and verbal description. These skills help individuals express how they feel within nature and therefore build an important connection within themselves and with each other.
"I've made new friends and getting back out into nature has been so interesting and relaxing. It's been soothing to see so much beauty around us on our weekly walks." – Happy Wanderer Participant, 2022
Inspired by their photography taken on the group's Getting to Know You and Nature walks, the Happy Wanderers and their group deliverer, Chris, collectively selected some of their favourite images taken of the nature on their doorstep. These images were taken to The World of Glass in St. Helen's where each participant could choose their own glass feature and its design. Varying shades of grass, vibrant flower petals and skylines, textures of tree bark and ripples in water have all influenced the unique designs of these glass works.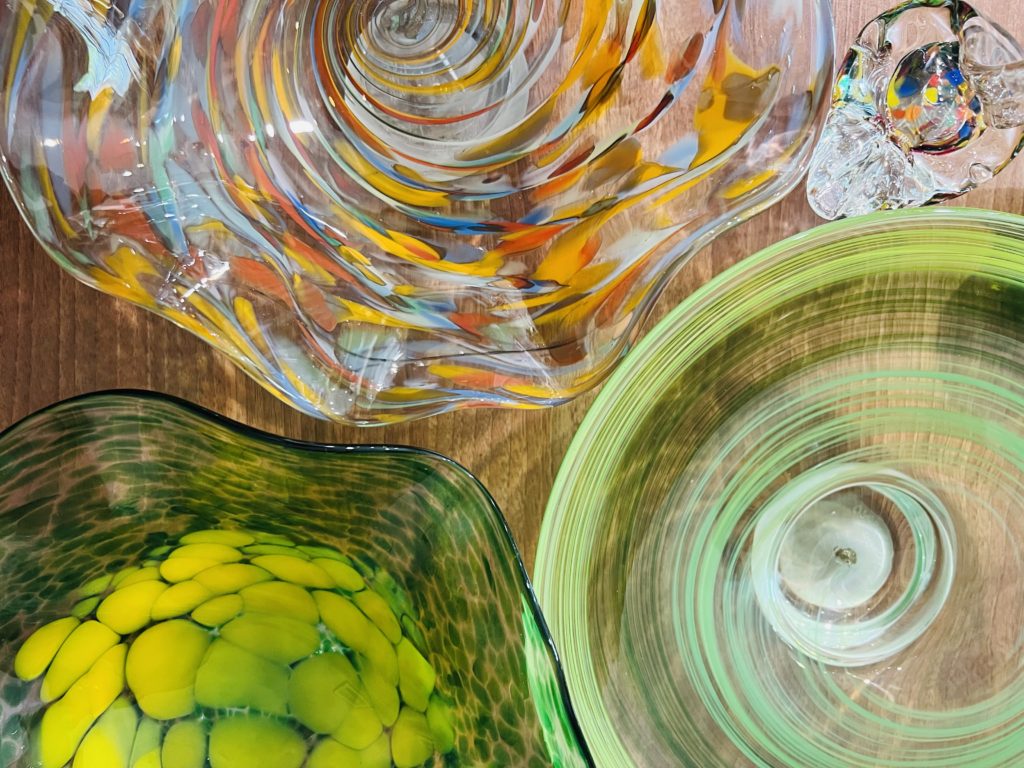 "I have loved that the nature around us has now been turned into a piece of glass that I can keep in my flat as a reminder of our time together but also to motivate me to get out and explore more." 
Participants were able to choose between a personalised glass vase, coaster, bowl, paperweight, swan, or robin; whichever they felt would tell their story best. One participant chose a bowl and used a sunflower as her inspiration. Another created a glass paperweight that represented a bundle of tangled weeds.
Over four visits, the Happy Wanderers had demonstrations at the World of Glass and full control in the design process. After each participant had created their own piece, the group designed 130 pieces of bespoke art, each signed 'Happy Wanderers Project 2022'. These were gifted to each resident in Foundry Wharf at a cream tea event in the building's bistro.
"I like that the glass I helped design is of a swan, as I can look out of my flat window and see the swans and their young ones on the canal.  It's also nice to know that even those that didn't join us for the walks have benefited by receiving a special piece of glass that reflects the nature around us. Not everyone is able to go on the walks, but we have brought a bit of nature into their homes."
This allowed more residents to know of the Nature4Health walks, and more importantly brought some people out of isolation.
"I was very lonely when I moved here and then with the pandemic, I felt very isolated. This project has helped me mix with more people. I've walked and talked, and most importantly having a laugh every week has lifted my spirits. The people I have met have helped make it feel like home again."
As a result, six more residents have since shown an interest in joining the Happy Wanderers group for the next 12-week programme. If you would like to join or find out more, please contact Clare Olver or explore our website for more Nature4Health activities.